Geberit Home App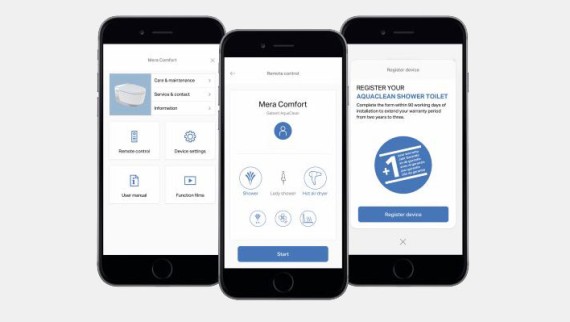 The Geberit Home App enables end users to control and maintain their compatible Geberit products in just one app.
Compatible Geberit products:
Geberit AquaClean (e.g. Mera Comfort)
Geberit actuator plate (e.g. DuoFresh odour extraction module)
ENHANCE YOUR GEBERIT AQUACLEAN EXPERIENCE WITH THE GEBERIT HOME APP
Simply connect your smartphone to your Geberit AquaClean shower toilet via Bluetooth to turn it into a remote control.

Benefits of the Geberit Home App for AquaClean

Operate your Geberit AquaClean shower toilet with your smartphone
Configure personal settings on your appliance
Save your personal settings
Access helpful information about care and maintenance
Watch functionality videos
Call up the user manual digitally
Access service and contact information
Contact the chatbot at any time if you have a question
Conveniently order consumables for your shower toilet
Download the app
The Geberit Home App is available free of charge for Android and iOS smartphones in the relevant app store.
QR CODE
QR code for iOS Geberit Home App
QR code for Android Geberit Home App