Bathroom renovations: how to go about it!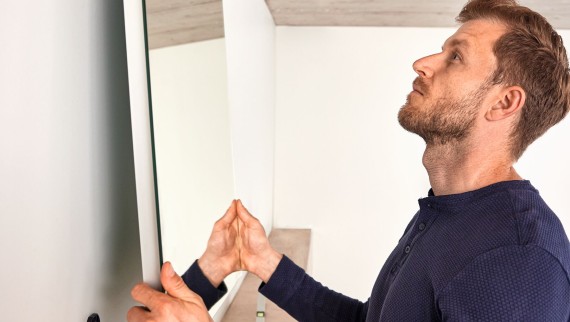 Every day, we spend an average of up to one hour in the bathroom. Sanitary products are often subjected to decades of wear and tear, and bathroom furniture is exposed to high levels of moisture. That's why it's worth investing in good equipment to create a space that you can enjoy and feel comfortable in.
Here, we explain how long it takes to renovate a bathroom and what costs you should expect. In addition, we will guide you through the renovation process step by step, offering useful expert tips along the way.
How long does a bathroom renovation take?
Are you considering renovating your bathroom and want to know how long it will take? It depends on the project.
| Cosmetic renovation | Renovation with new tiling | Structural renovation |
| --- | --- | --- |
| In a cosmetic renovation, bathroom furniture, sanitary ceramic appliances and taps are replaced and the walls or ceiling are painted. But the tiles remain and no other structural work is carried out. | In addition to new bathroom furniture and ceramic appliances, tiling, dismantling, plastering or painting work is carried out. The floor plan and structure of the bathroom, however, remain unchanged. This means that the WC and washbasin will remain in the same place, and the bathtub will not be replaced by a shower or vice versa. | For a structural renovation of the bathroom, more work is done on the structure of the building. The wall is torn open, pipes are replaced throughout the room and appliances are moved. This may be the case, for example, if you want to move the toilet or the washbasin area somewhere else in the room or install a shower instead of a bathtub. In a structural renovation, additional trades such as electrics, heating and ventilation are also involved. |
| As a rule, the work for a cosmetic renovation takes 1-3 days. | In this scenario, you can plan approximately 3-5 days for the conversion. | For a structural renovation, expect 1-2 weeks of work. |
How much does it cost to renovate a bathroom?
The costs depend on the scope of the bathroom renovation, the number of square metres and the products chosen. Prices can also vary regionally and depending on the provider.
A little tip: where to save costs
When renovating your bathroom, you can save money on the scope and with the choice of appliances. Replacing single pieces of bathroom furniture and ceramic appliances can make a bathroom look completely new without any major structural measures. Product selection is also a decisive cost factor: Many manufacturers also offer high-quality products in the lower price segment.

From old to new: this is what modern bathrooms look like
Are you having trouble imagining your bathroom in a new light? Be inspired by these before-and-after bathroom renovation comparisons from different countries.
The challenges ranged from very little space to a lack of daylight and roof pitch. All the projects have one thing in common: the renovations have allowed the families to enjoy their beautiful new oases of well-being in timeless designs.
How do you go about a bathroom renovation?
The decision to renovate the bathroom has been made. But where do you start? We will guide you through the stages of a renovation project and offer helpful tips along the way.
1. Bathroom planning: a good plan saves money
2. Demolition work: remove old furniture, tiles and the like.
4. Levelling and constructing the floor
5. Plastering and re-tiling the walls
6. Installing new bathroom furniture, washbasins, taps, etc.
Discover products from Geberit