Concealed Cisterns The standard for flush technology
The classic in modern bathroom installations
Geberit concealed cisterns are the classics of modern bathroom installations and have been installed a million times over around the world for more than 50 years. They are known for their proverbial reliability. Every cistern is leak-tested before it is delivered. The 25-year guaranteed spare parts availability provides long-term security. The flush volume of the Geberit Sigma concealed cistern 12 cm can be reduced to 4 litres. It's therefore exemplary in terms of water consumption to achieve consistently high scores on the Water Efficiency Labels and fullfill all local requrements worldwide.
Prepared for the future of the bathroom
The Geberit Sigma and Omega installation elements for WCs include a conduit pipe for the water supply connection of Geberit AquaClean shower toilets. You can therefore retrofit a Geberit AquaClean, the shower toilet that cleans with water, at any time. Some Geberit installation elements for WCs are additionally equipped for the Geberit DuoFresh odour extraction unit, which absorbs and eliminates odours directly in the WC ceramic appliance.
Equipped for any situation
You not only have a wide selection of Geberit actuator plates, but also reliable Geberit installation elements for installation behind the wall. These are available in three different installation heights and for front flush actuation, as well as flush actuation from above for lower installation heights. Geberit actuator plates bear the name of the suitable concealed cistern so that you can be certain that everything will match.
Geberit Sigma concealed cistern
available in 8 cm or 12 cm cistern
Construction height 112/114 cm (12 cm / 8 cm cistern)
Front actuation
Available as barrier-free
Height-adjustable (only 12cm cistern)
For solid wall and dry wall constructions
Odour extraction (recirculating air/exhaust air)
Suitable for Geberit remote flush actuation
Tool-free maintenance
AquaClean connection provided
Geberit Omega concealed cistern
Complete flexibility with the various construction heights of 112 cm, 98 cm and 82 cm
Front actuation
Additional top actuation available with construction heights 82 cm and 98 cm
For solid wall and dry wall constructions
Particularly small actuator plates
Suitable for Geberit remote flush actuation
Tool-free maintenance
AquaClean connection provided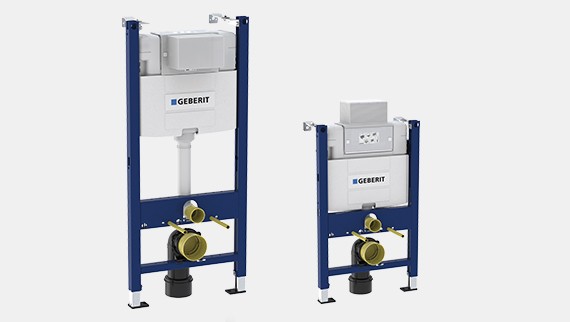 Geberit Alpha concealed cistern
Construction height 112 cm and 82 cm
Front actuation
Additional top actuation available with construction height 82 cm
For solid wall and dry wall constructions