Geberit Acanto Clear lines, individual details
The complete bathroom series Geberit Acanto combines a clear design with organic shapes and smart detailed solutions that meet the most diverse requirements and design wishes. The individuality of your lifestyle is matched by Acanto's diversely modular nature.
Please select an info point in the picture
Geberit Acanto characteristics
Soft organic design for a timelessly beautiful bathroom
Individual bathroom design: diverse, special and unusual combination possibilities
Cleverly designed storage space for optimal reach
Elegance thanks to the combination of high-quality materials and surfaces
Rimless WCs as standard, thus ensuring particularly easy cleaning


More information about Geberit Rimfree

WC seats are easy to detach thanks to the QuickRelease function
Colours and surfaces The Acanto bathroom series is available in the following colours and surface finishes:
Colours: white high-gloss coated, lava matt coated, sand grey matt coated, black matt coated
Surface: mystic oak
Glass: white, sand grey, lava and black
Express your individuality with the Geberit Acanto furniture
Geberit Acanto bathroom furniture
Following extensive tests with consumers, the Geberit Acanto series has been developed to meet the widest variety of everyday needs. The inside of the furniture is surprisingly flexible, with the arrangement of the drawers, compartments and shelves creating an uncluttered environment.
Magnetic boards – which can be mounted on the wall – enable storage trays or brackets to be attached precisely where the cosmetic items are needed.
The innovative concept transforms the mirror cabinet above the washbasin into a beauty centre with a built-in magnifying mirror offering greater versatility.
With a wide range of washbasin cabinets, tall cabinets, mirror cabinets and shelf solutions, the Geberit Acanto bathroom furniture creates the perfect storage space for every bathroom.
Geberit Acanto - your benefits
Harmonious furniture concept with a great deal of creative freedom: Geberit Acanto bathroom series.
With the magnet board, you can position storage boxes exactly where you need your cosmetics – and you can change the positions in next to no time.
Slim bathroom furniture that offers lots of storage space even in small bathrooms
Rimfree WCs, offering stunning aesthetics without any places for bacteria to hide.
Product features
4.5 l flush
Water-saving toilet flush.
Floor clearance
Wall-hung toilets ensure easy floor cleaning.
Moisture-resistant material
Bathroom furniture with moisture-resistant, high-compressed three-layer chipboard.
QuickRelease WC seat
Easily removable WC seats for more convenient cleaning.
Drawers with soft closing
Drawers that finish closing silently and by themselves.
SoftClosing
A practical, quiet soft-closing mechanism for the WC seat.
Rimfree toilets
Rimfree toilets ensure easy cleaning and greater hygiene.
Hidden floor fixing
Floor-standing WC ceramic appliances are available in a closed version.
Hidden wall fixing
Wall-hung WC ceramic appliances are available in a closed version.
Hidden overflow
Washbasins without an overflow hole can be combined with the Clou drain and overflow system.
Geberit Rimfree technology perfect combination of hygiene and design
Product catalogue Additional details for your planning
Additional information on the Geberit Acanto series, including product details and dimensions, can be found in our product catalogue.
Find a Geberit dealer near you We are happy to provide on-site advice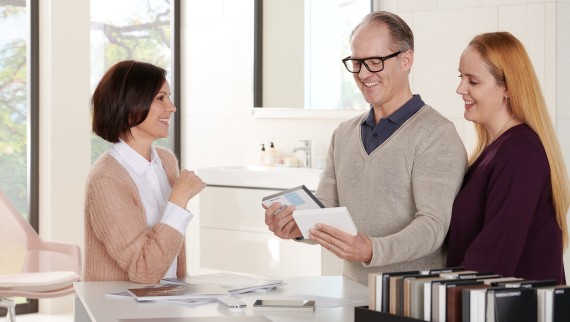 A visit to one of our dealer's showroom is the perfect way of getting expert advice from specialists and seeing the advantages of Geberit products up close.
We take great care to make sure the requirements of our customers are met. Regardless of whether cleanliness, user-friendliness, comfort, optimisation of space, design or accessibility is important to you, we have the right products on hand.