Geberit Bambini Encouraging children to learn about hygiene
Children have particular requirements for bathrooms in childcare centres, schools and other establishments. Child-friendly bathroom equipment supports and simplifies the development of hygienic practices in a playful way.
Please choose an information button in the image
Geberit Bambini features
Child-friendly development of hygienic practices in a playful way
Suitable for children of different ages
Can be adapted to the spatial circumstances
The soft washbasin contours protect against injuries
The perfect washbasin taps in bold or neutral colours
WC seats for every age
Various surfaces and WC lids
Geberit Bambini – your benefits
Can be mounted at a flexible height between 450 and 600 mm depending on the age. A closer tap hole makes it easier to use.
The child-friendly WC ceramic appliance with feet is not just funny to look at, it also has a practical side: Children whose feet do not yet touch the floor when they are sitting down can rest them on the appliance's feet.
WCs adapted to the appropriate size and WC seats from Geberit designed for children, such as the WC seat ring in the form of a potty and the child's WC seat in an endearing animal shape with integrated handles and grips, will help little ones from toddlers upwards to achieve hygienic independence.
Well thought through in terms of design, projection and height. Geberit Bambini washbasin concepts make it easy for children of all sizes to reach the taps and encourage them to learn about hygiene in a playful way.
Product catalogue Additional details for your planning
Additional information on the Geberit Bambini series, including product details and dimensions, can be found in our product catalogue.
Find a Geberit dealer near you We are happy to provide on-site advice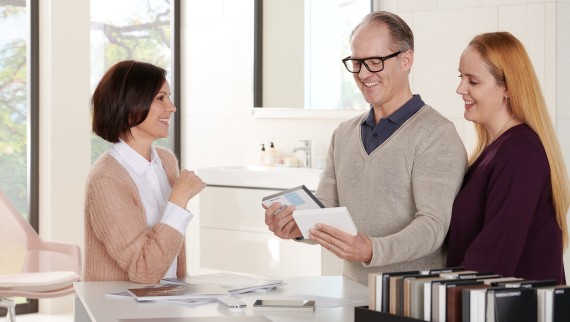 A visit to one of our dealer's showroom is the perfect way of getting expert advice from specialists and seeing the advantages of Geberit products up close.
We take great care to make sure the requirements of our customers are met. Regardless of whether cleanliness, user-friendliness, comfort, optimisation of space, design or accessibility is important to you, we have the right products on hand.