Geberit Citterio Simple Italian design, exclusive elegance
The designer range Geberit Citterio combines unusual shapes with special materials, resulting in an unmistakable design language. The premium bathroom series reflects the unique design hallmarks of the renowned Italian architect and designer Antonio Citterio: Remarkable originality meets timeless elegance and quality.
Please select an info point in the picture
Geberit Citterio characteristics
Reflects the design hallmarks of the renowned Italian architect and designer Antonio Citterio
Ceramics with organically flowing shapes and a particularly smooth finish
Invisible overflows and integrated ceramic drain covers
Lay-on washbasins with cabinets provide lots of space for bathroom accessories
Rimless Geberit Rimfree toilets and bidets with no hidden places for dirt to accumulate


More information about Geberit Rimfree

Added shine and robustness thanks to glass cover plates
Exciting and elegant interplay of wood and glass
Colours and surfaces The Citterio bathroom series is available in the following surface finishes:
Surfaces: oak beige wood-textured melamine, oak grey-brown wood-textured melamine
Glass: taupe glass, black glass
Geberit Citterio - your benefits
Bathroom furniture with generous well organized storage space.
Completing the Geberit Citterio range is a selection of bathroom furniture available in two wood finishes; oak beige and oak grey-brown, with glass fronts and taupe cover plates offering that finishing touch to your bathroom.
Lay-on washbasins in a pure organic shape are especially eye-catching.
Rimfree WCs, offering stunning aesthetics without any places for bacteria to hide.
Product features
4.5 l flush
Water-saving toilet flush.
Floor clearance
Wall-hung toilets ensure easy floor cleaning.
Moisture-resistant material
Bathroom furniture with moisture-resistant, high-compressed three-layer chipboard.
KeraTect ceramic glaze
The special glaze KeraTect provides a smooth and durable surface.
Drawers with soft closing
Drawers that finish closing silently and by themselves.
SoftClosing
A practical, quiet soft-closing mechanism for the WC seat.
Rimfree toilets
Rimfree toilets ensure easy cleaning and greater hygiene.
Hidden floor fixing
Floor-standing WC ceramic appliances are available in a closed version.
Hidden wall fixing
Wall-hung WC ceramic appliances are available in a closed version.
Hidden overflow
Washbasins without an overflow hole can be combined with the Clou drain and overflow system.
Geberit Rimfree technology perfect combination of hygiene and design
Product catalogue Additional details for your planning
Additional information on the Geberit Citterio series, including product details and dimensions, can be found in our product catalogue.
Find a Geberit dealer near you We are happy to provide on-site advice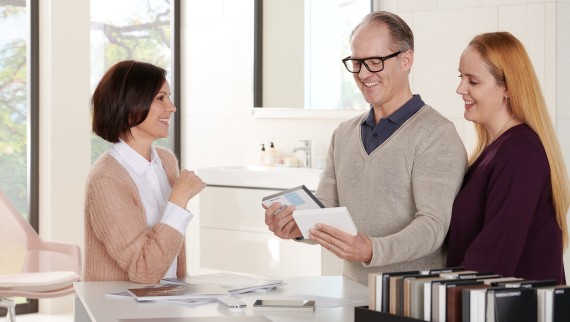 A visit to one of our dealer's showroom is the perfect way of getting expert advice from specialists and seeing the advantages of Geberit products up close.
We take great care to make sure the requirements of our customers are met. Regardless of whether cleanliness, user-friendliness, comfort, optimisation of space, design or accessibility is important to you, we have the right products on hand.