Geberit iCon Modular, slim, versatile
The Geberit iCon complete bathroom series features a sharp design and clean lines while still being flexible enough for use in a wide range of applications. An extensive range of ceramic appliances and bathroom furniture units in a modern design language offers maximum design flexibility and is extremely adaptable. For people of many tastes.
Please choose an information button in the image
Geberit iCon features
The washbasin ceramic appliances are available in three rim heights: as a classic washbasin, in a LightRim design with a reduced rim height of 5.5 cm, or as a SlimRim vanity basin with a rim height of just 1.5 cm
Gently rounded inner basins form an impressive contrast to the clear outer contours
A large selection of ceramic appliances in different sizes, bathroom furniture and illuminated mirrors can be flexibly combined
Six furniture surfaces and freely combinable profile handles in five colours lend every bathroom a distinctive style
Greater hygiene thanks to Geberit Rimfree WCs
Modern room planning and installation at different heights
Modular storage concept complete with furniture and shelving
The drawers in the Geberit iCon washbasin along with the tall and side cabinets are equipped with a soft-closing mechanism
Perfectly combinable with

Option Plus mirror cabinets
Colours and surfaces The iCon bathroom series is available in the following colours and surfaces:
Colour: White high-gloss coated, white matt coated, sand grey high-gloss coated, lava matt coated
Surface: Oak wood-textured melamine, hickory wood-textured melamine
Geberit iCon – your benefits
The Geberit iCon bathroom series features an extensive range of bathroom ceramics and furniture units in a clear and modern design language. Its linear design is impressively versatile and creates an illusion of space even in small rooms.
The bathroom series includes products for small bathrooms such as washbasins with a small installation depth, corner constructions, bathroom furniture and mirror elements that are perfectly adapted to suit small floor plans.
The new drawer concept without a drain recess offers more space and its high-quality organisation system helps to keep drawers nice and tidy.
Open furniture elements and shelf areas allow for unique furniture combinations to suit individual preferences and the amount of space in the bathroom.
WCs and bidets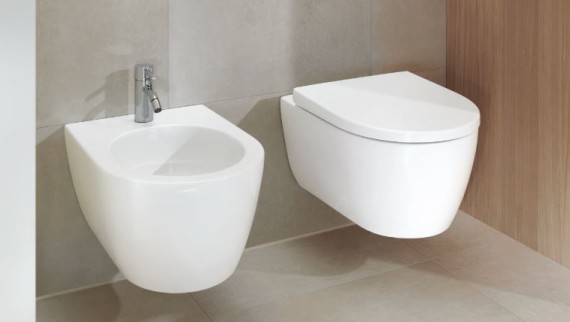 WCs and bidets are available in rounded and square design both wall-hung and floor-standing. This means all customers find a perfect solution for their own personal wishes and spatial requirements. An optimised Rimfree technology makes the rounded wall-hung WC even easier to clean.
Mounting and cleaning made easy Geberit iCon WC
Separate flush guide made of plastic
QuickRelease function
Type EFF3 WC installation system
Washbasin solutions for small floor plans
The washbasins are specially designed for small bathrooms or guest WCs. They offer a whole host of solutions for when space is at a premium. Shelves and tap holes positioned to the side enable low installation depths, and corner constructions mean that installation in niches is also possible. The ceramic range is complemented with WCs with shortened projections.
The modular concept of Geberit iCon creates storage space in small bathrooms and guest bathrooms. With well-thought-out washbasin cabinets, side cabinets and side elements, even bathrooms with difficult layouts can be configured to their full potential. Low installation depths tailored to the washbasin solutions ensure freedom of movement even in confined spaces.
Product characteristics
4.5 l flush
Water-saving toilet flush.
Floor clearance
Wall-hung toilets ensure easy floor cleaning.
Moisture-resistant material
Bathroom furniture with moisture-resistant, high-compressed three-layer chipboard.
Compact dimensions
Various formats for different spaces.
QuickRelease WC seat
Easily removable WC seats for more convenient cleaning.
Drawers with soft closing
Drawers that finish closing silently and by themselves.
SoftClosing
A practical, quiet soft-closing mechanism for the WC seat.
Rimless toilets
Rimless toilets ensure easy cleaning and greater hygiene.
Hidden floor fixing
Floor-standing WC ceramic appliances are available in a closed version.
Hidden wall fixing
Wall-hung WC ceramic appliances are available in a closed version.
Geberit Rimfree technology perfect combination of hygiene and design
Product catalogue Additional details for your planning
Additional information on the Geberit iCon series, including product details and dimensions, can be found in our Product catalogue.