Geberit Smyle Subtle shapes, maximum function
With its contemporary design and ornate lines, the Geberit Smyle bathroom series creates a relaxing and positive bathroom ambience and brings harmony and lightness into family and guest bathrooms. With a clear sense of order and efficient use of a room, Geberit Smyle achieves the highest level of convenience in the bathroom from any structural situation.
Please select an info point in the picture
Geberit Smyle characteristics
Geberit Smyle is contemporary, uncomplicated and timeless
Slightly rounded edges on the handles for a seamless transition from washbasin to cabinet
Modular furniture concept, different combination possibilities depending on taste and storage needs
Option of open or closed storage space offer a great deal of creative freedom
Rimless Geberit Rimfree toilets with no hidden places for dirt to accumulate


More information about Geberit Rimfree

High-quality interior layout of the drawers, lava-coloured
Washbasins in a round and square design
Impressive value for money
Geberit Smyle – your Benefits
Whether large or small, with or without tap hole, as a double washbasin or handrinse, Geberit Smyle offers ideal solutions for all requirements in modern bathrooms.
Geberit option mirrors offer perfect light for the everyday bathroom routine.
Completing the Geberit Smyle range is a selection of bathroom furniture precisely designed to match the washbasins and meticulously continue the contours of the ceramic design. With generous storage space on offer, drawers are fitted with high-quality soft closing as standard.
The WC ceramic appliance is also available in a shorter and particularly space-saving version.
Product features
4.5 l flush
Water-saving toilet flush.
Floor clearance
Wall-hung toilets ensure easy floor cleaning.
Moisture-resistant material
Bathroom furniture with moisture-resistant, high-compressed three-layer chipboard.
QuickRelease WC seat
Easily removable WC seats for more convenient cleaning.
Drawers with soft closing
Drawers that finish closing silently and by themselves.
SoftClosing
A practical, quiet soft-closing mechanism for the WC seat.
Rimfree toilets
Rimfree toilets ensure easy cleaning and greater hygiene.
Hidden floor fixing
Floor-standing WC ceramic appliances are available in a closed version.
Hidden wall fixing
Wall-hung WC ceramic appliances are available in a closed version.
Colours and surfaces Your taste counts
Fine surfaces, clear shapes and elements that harmonize perfectly with the bathroom ceramics: With Geberit bathroom furniture, bathrooms can be transformed into harmonious and high-quality living spaces.
Only high-quality materials, moisture-resistant and easy-to-clean surface coatings and long-lasting, securely functioning handle are used in the Geberit bathroom furniture ranges.

Geberit Rimfree technology perfect combination of hygiene and design
Product catalogue Additional details for your planning
Additional information on the Geberit Smyle series, including product details and dimensions, can be found in our product catalogue.
Find a Geberit dealer near you We are happy to provide on-site advice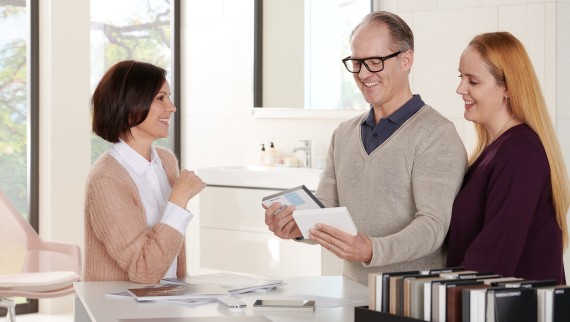 A visit to one of our dealer's showroom is the perfect way of getting expert advice from specialists and seeing the advantages of Geberit products up close.
We take great care to make sure the requirements of our customers are met. Regardless of whether cleanliness, user-friendliness, comfort, optimisation of space, design or accessibility is important to you, we have the right products on hand.