Geberit VariForm Unlimited design versatility
Circular and rectangular, oval-shaped and elliptical: the design concept for the Geberit VariForm washbasins is based on the four most important basic geometric shapes and the three key installation variants. In combination with the serene and restrained stylistic elements of the VariForm bathroom furniture, this range offers the creative space to design your bathroom however you like.
Please choose an information button in the image
Features of Geberit VariForm
Washbasin shapes: circular, rectangular, oval-shaped and elliptical
Under-countertop, countertop and lay-on washbasins for versatile use in private and public spaces or hotel bathrooms
With and without tap hole bench
Generous basin depth
Versatile furniture range for lay-on washbasins
Sleek and modern design
Colours and surfaces The Variform bathroom series is available in the following colours and surface finishes:
Colours: white high-gloss coated, lava matt coated
Surfaces: hickory wood-textured melamine, oak wood-textured melamine
Geberit VariForm Versatile and ergonomic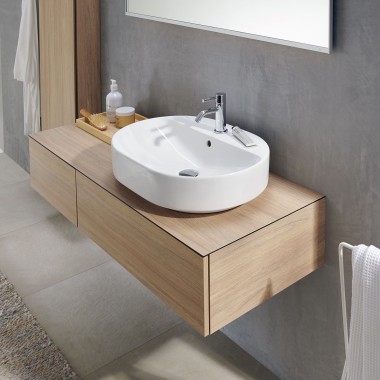 VariForm ellipse lay-on washbasin with tap hole bench on furniture in oak colour.
VariForm ellipse lay-on washbasin on bathroom furniture in white colour.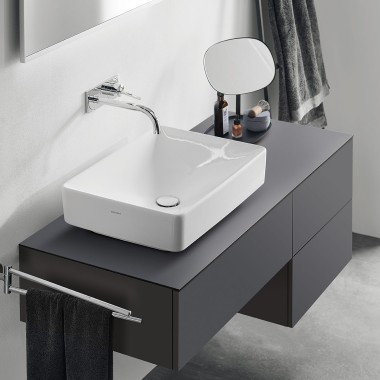 VariForm rectangle lay-on washbasin on lava matt furniture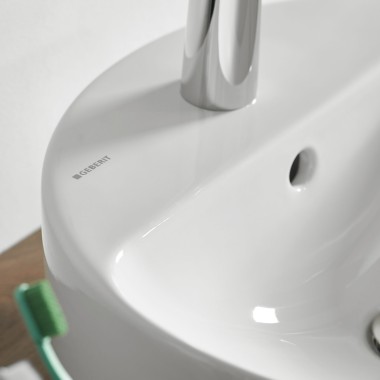 Countertop and lay-on washbasins are available both with and without tap hole bench.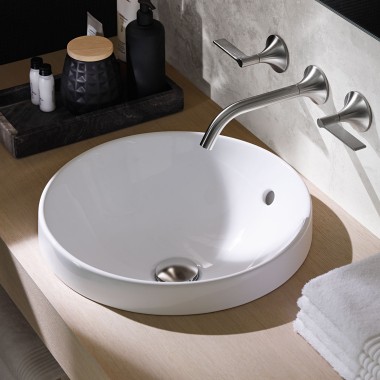 VariForm round counter-top washbasin
VariForm oval counter-top washbasin with tap hole bench
VariForm round under-countertop washbasins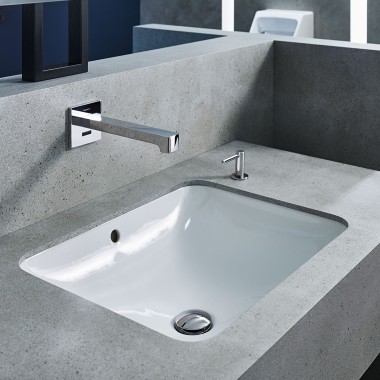 VariForm rectangle under-countertop washbasin.
Modern washbasins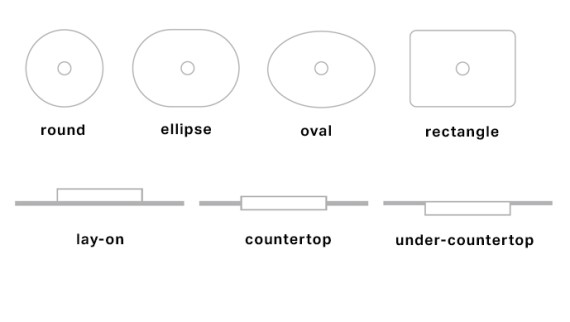 The Geberit VariForm design concept is based on the four basic geometric shapes – round, ellipse, oval, rectangle and the three most common installation types.
Countertop and lay-on washbasins are available both with and without a tap hole bench. The tap can be installed as a deck-mounted tap on the ceramic or the tap bench – or alternatively, as a wall-mounted tap on the prewall installation.
Made from high-quality sanitary ceramic, the washbasins are scratchproof and resistant to cracks, as well as easy to care for.
Geberit VariForm bathroom furniture For stylish washplaces
Geberit VariForm bathroom furniture expands the design possibilities of the washbasin area with VariForm lay-on washbasins.
The washbasin cabinet is available in widths of 75 and 90 cm, each with one drawer. The elements are additionally available as a set with a low cabinet of the same construction height or in anL-shape with a larger low cabinet. If even more storage space or two washbasins are required in the bathroom, different combinations can be connected with each other according to preference.
The Geberit VariForm furniture concept can ideally be combined to the Geberit Option Mirrors.
Online catalogue Additional details for your planning
Additional information on the Geberit VariForm series, including product details and dimensions, can be found in our online catalogue.
Find a Geberit dealer near you We are happy to provide on-site advice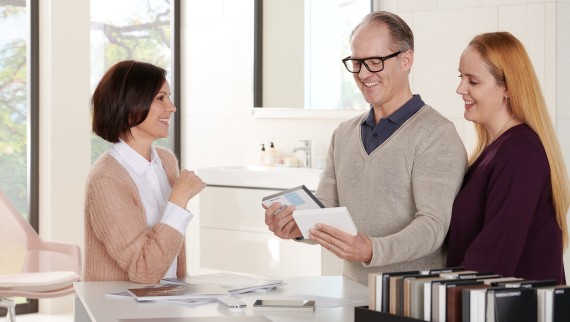 A visit to one of our dealer's showroom is the perfect way of getting expert advice from specialists and seeing the advantages of Geberit products up close.
We take great care to make sure the requirements of our customers are met. Regardless of whether cleanliness, user-friendliness, comfort, optimisation of space, design or accessibility is important to you, we have the right products on hand.