Walk-in shower Tips for planning a floor-even shower
What is a walk-in shower?
Floor-even, walk-in or open shower - all these terms describe showers that have become an indispensable part of the modern bathroom. In contrast to conventional shower cabins, there is no ledge to step over and there is no door to open to get in the shower.
This is not only practical, but also architecturally appealing. Walk-in showers fit into almost any bathroom and can be designed with both brick and glass shower partitions. The light and airy style of walk-in showers without distracting shower doors and steps makes them a real eye-catcher in the modern bathroom, conveying a feeling of luxury and offering maximum comfort.
Advantages of an open shower
Walk-in showers are a popular choice for modern bathrooms thanks to their open design. They offer many advantages:
Simple elegance: Curbless showers are timelessly elegant thanks to their simple design. The shower area is usually separated by large transparent glass surfaces, which brighten and visually enlarge the room. This is a great advantage, especially in small bathrooms.
An open feeling: curbless, walk-in showers make a bathroom feel more open. They do not have ledges or steps, and so offer more freedom of movement when showering. The walk-in shower matches various furnishing styles and remains attractive even if changes are made to the bathroom at a later date. This maintains the value of the property.
Easily accessible: a walk-in shower without a door or barrier allows for easy entry and exit. The absence of ledges and doors not only creates more space, it also increases safety and ensures full shower power.
Cleaning is a breeze, because in the absence of superfluous doors, handles or grout joints, there are fewer places to clean. A refined glass panel makes an ideal shower partition, because deposits do not form easily on it. And a clean and stain-free shower partition just looks better.
Modern, curbless shower – ideal for bathroom niches or small bathrooms
Whether the bathroom is large or small, or even if it has a pitched roof, shower cubicles can almost always be replaced with open showers. As the shower area is usually separated from the rest of the bathroom by a glass pane, the type, size and shape of an open shower can be adapted to the particular room.
Walk-in showers offer more space than conventional shower cubicles due to the seamless transition into the shower area – which is particularly advantageous for smaller bathrooms. Normally, a larger shower area means a more pleasant shower experience. If one thing is clear, it's that a walk-in shower makes a bathroom with a roof pitch or a bathroom niche appear much larger.
Bathrooms look more spacious with walk-in showers.
The large glass partition and the uniform floor make the shower and bathroom look like one room.
The shower with wall drain looks elegant.
Five tips: how to plan your walk-in shower
Even though modern walk-in showers fit into almost any bathroom, there are a few things to consider. These include the shape and size of the walk-in shower panel, and planning correctly, starting with the taps and ending with the tiles. Here are the most important points.
Tip 1: planning sizes with a 3D bathroom planner
Tip 2: plan the walk-in shower partition generously
Tip 3: decide on a shower surface or tiles
Tip 4: non-slip floor design
Tip 5: use wall niches as storage space
Inspiration for modern shower ideas
The shower area is a highlight of many modern bathrooms – both functionally and visually. Glass shower cubicles or walk-in showers are very much in vogue. They offer plenty of space and, combined with the matching shower jets, turn a wet unit into a spa experience.
Here are some tips:
Rain shower: rain showers feel just like you're in a rainforest. The gentle water jet offers a refreshing and relaxing shower experience. Large rain showers installed on or in the ceiling look especially stylish.
Waterfall shower: the water flows down like a waterfall and creates a feeling of luxury and relaxation.
Overhead shower outlets and hand showers: a combination of overhead and hand showers offer complete flexibility. With these, users can choose whether to run the water from above for a relaxing shower or to use the hand shower.
Smart shower: modern technology can even be added to a modernised bathroom, for example to control the light and music or the shower using an app or voice commands. For example, the water temperature and the amount of water can also be set in addition to music and the news.
Geberit solutions for curbless showers
Exclusive glass walk-in showers
Glass lends an exclusive and lightweight look. As it is smooth over a large area, nothing interrupts the elegant style, so the shower area blends seamlessly into the bathroom. Glass shower partitions, which are anchored in the prewall without visible fittings, add even more elegance. The Geberit ONE glass walk-in shower panel is also especially easy to clean.
Non-slip shower surfaces
Geberit shower surfaces are available in a variety of designs and surface textures, from non-slip to velvety soft. They are made of high-quality materials, feel pleasant to the touch and are especially easy to clean.
High-quality and easy-to-clean shower channels and wall drains
Geberit CleanLine shower channels combine attractive design with functionality. They are recessed into the floor and drain water efficiently. An open drain outlet surface prevents deposits from accumulating. A removable comb insert makes cleaning easy.
The Geberit wall drain enables a continuous floor design. A nice side effect: With the drain installed behind the wall, you will never step on it again.
Geberit shower surfaces are available in various designs and surface structures.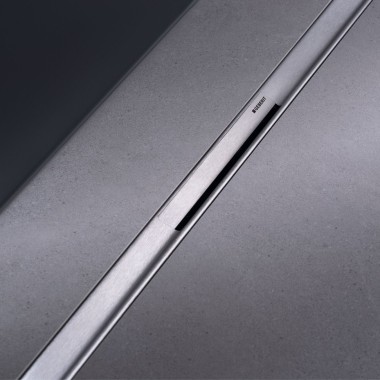 Geberit CleanLine shower channels combine attractive design with functionality. This makes them especially easy to clean.
With the Geberit wall drain, the floor design is uninterrupted.
How is it different from a barrier-free bathroom?
Barrier-free bathrooms are designed to be easier and safer for people with limited mobility or disabilities to use. A floor-even shower can form part of a barrier-free bathroom, depending on the shower surface. There are some differences to keep in mind.
While a walk-in shower can be flush with the floor, there are also variants with shower trays. These have a ledge, so they are no longer barrier-free, but they do keep water in the shower area. A barrier-free shower cannot have a ledge and must be at least 90 × 110 centimetres in size. To make your walk-in shower barrier-free, make sure that the taps are at an appropriate height: Taps and the shower head should be accessible and adjustable from a seated position. For older people or people with physical disabilities, grab rails and a folding seat or shower bench make showering easier.
Which bathroom is the right one for you?