Luxury at the Grand Hôtel
The Grand Hôtel understands the importance of meeting the lofty expectations of its guests and the constant need to reinvent itself. This also included the installation of Geberit AquaClean shower toilets at the five-star hotel.
Located in the heart of the Swedish capital, the Grand Hôtel Stockholm has been a prime address for international stars, major celebrations and special occasions since 1874.
A new experience
With its recent renovation of 19 rooms and suites, the Grand Hôtel Stockholm has succeeded in bringing together local and international influences. The rooms are now resplendent in a modern Scandinavian style, perfectly supplemented with design elements from South Europe and India. Visiting the new rooms is now a completely new experience compared to the remaining 300 rooms in the hotel. The room walls feature intricate, floral art photography plus striped wallpaper.
The element of water
The bathroom equipment is also perfectly in line with the luxury of the hotel. The bathrooms are equipped with the latest WC technology, both in front of and behind the wall. Geberit AquaClean Mera and AquaClean Sela shower toilets are installed here. Behind the wall, there is the universal Duofix installation element. The high-quality bathroom equipment is rounded off by the Sigma10 actuator plates with water-saving stop-and-go flush actuation.
Facts
Geberit Know-how
Architects
Bildergalerie
Feel-good moments guaranteed: the Geberit AquaClean Mera shower toilet.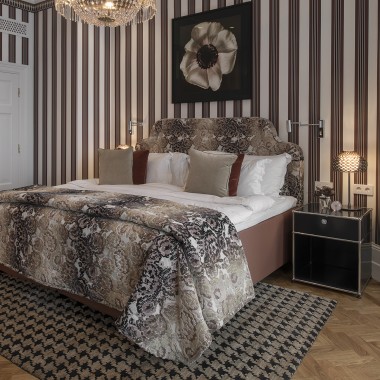 The room walls feature intricate, floral art photography plus striped wallpaper.
A comprehensive redesign has given the 19 rooms and suites a new flair.
Subscribe to eView The Geberit newsletter for architects
Around the world, Geberit products and solutions are used in buildings of all kinds. You will find a selection of the most interesting objects on this page.
Periodically, "eView", the Geberit reference newsletter, takes up a current topic from the construction industry. In addition to spectacular project examples, "eView" offers interviews with architects, construction experts and designers as well as further background information.