Bathroom Series
Personal preferences are as diverse as the people who have them, which is why Geberit has the right bathroom series for all individual demands. Whether sweeping organic shapes or an angular look, we offer the right solution for every taste. Our modern, timeless designs can also be combined perfectly with existing products. Practical, sophisticated functions also offer a range of solutions when it comes to cleanliness, space, comfort and user-friendliness, all of which make life in the bathroom easier.
Find a Geberit dealer near you We are happy to provide on-site advice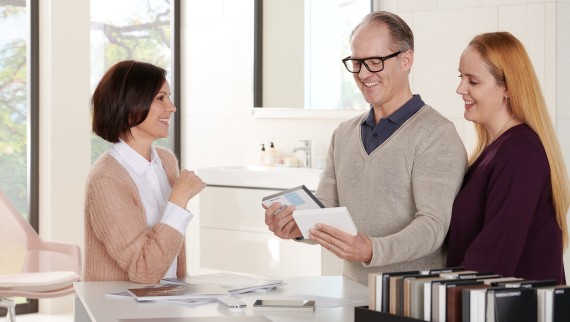 A visit to one of our dealer's showroom is the perfect way of getting expert advice from specialists and seeing the advantages of Geberit products up close.
We take great care to make sure the requirements of our customers are met. Regardless of whether cleanliness, user-friendliness, comfort, optimisation of space, design or accessibility is important to you, we have the right products on hand.