Option Illuminated Mirrors and Mirror Cabinets Rays of light in the bathroom
New Option Illuminated Mirrors for more design variety
Design requirements in the bathroom are as diverse as they are individual, which is why Geberit has extended its product range to include a wide selection of illuminated mirrors to suit various budgets and requirements.
With 22 new models added to the Geberit Option series, this means customers can now choose from as many as 40 different illuminated mirrors.
Geberit Option Illuminated Mirrors features
Extended product range for even greater choice
Warm white light for a cosy ambience
New fastening solution for effortless and secure mounting
The Option Round mirrors offer both direct and indirect lighting.
The Option Oval model is available with indirect lighting
The angular Option Plus Square offers energy-efficient LED lighting with warm white light
Geberit's patented fastening solution allows Geberit Option illuminated mirrors to be mounted effortlessly and securely.
Geberit Option mirror
Up close and personal with yourself: a glance in the mirror is as much a part of the bathroom experience as washing your hands and brushing your teeth. All the better if illuminated mirrors and mirror cabinets show the people standing in front of them and the washbasin area in exactly the right light.
Please choose an information button in the image
Geberit Option mirror cabinets features
Geberit illuminated mirrors and mirror cabinets provide light wherever it is needed and are available in a variety of sizes and versions
The universal design is the perfect fit in any style of bathroom
Pleasant lighting for the washbasin area that perfectly meets your needs
Clever storage solutions and convenient connections
Well-organised, made-to-measure interior with height-adjustable glass shelves
Geberit Option Plus Mirror Cabinets
All Geberit Option Plus mirror cabinets come complete with dimmable light. The direct lighting is suitable for all occasions. An indirect light source below serves to create atmosphere while also illuminating the washbasin. The mirror cabinets come complete with elegant, height-adjustable shelves, a USB port and a sensor switch with a blue orientation light. A vanity mirror rounds off the Geberit Option Plus comfort package in style.
Geberit Option mirror cabinet
The universal design language of Geberit Option offers storage space for all essential cosmetics at every washplace. Its timeless design with fully mirrored doors and sides makes for the perfect complement to any bathroom style, while the adjustable glass shelves and integrated power socket serve to enhance the interior. The doors are also mirrored on the inside, providing a great view if you need to check yourself out from the back. And with a satin-finish frosted glass trim at the bottom, cleaning is easier than ever, since no fingerprints are left behind when opening the doors.
Option mirror cabinets side by side
 
Model
Option Basic
Option
Option Plus
Sizes
cm
50
55
60
60
75
90
120
60
75
90
120
Features
Direct LED lighting
Indirect lighting
 
Doors mirrored on both sides
Mirrored rear
 
 
Chrome handles
 
 
Power socket
 
 
(1 in 120 cm)
(2 in 120 cm)
USB port
 
 
Magnifying mirror
Optional
Optional
Magnetic holder
Optional
Optional
Interior colour
White matt housing
White matt housing
Anthracite matt housing
Mirrored exteriors
 
Geberit Option – benefits
A frosted glass trim serves as a handle and is resistant to fingerprints.
Geberit Option Plus mirror cabinets also offer an integrated USB port.
Option basic mirror cabinet with vanity mirror.
Product catalogue Additional details for your planning
Additional information on the Geberit Option series, including product details and dimensions, can be found in our product catalogue.
Find a Geberit dealer near you We are happy to provide on-site advice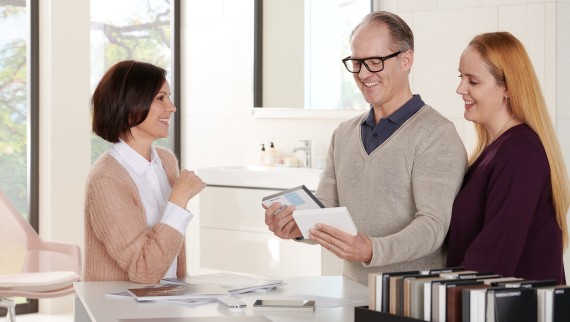 A visit to one of our dealer's showroom is the perfect way of getting expert advice from specialists and seeing the advantages of Geberit products up close.
We take great care to make sure the requirements of our customers are met. Regardless of whether cleanliness, user-friendliness, comfort, optimisation of space, design or accessibility is important to you, we have the right products on hand.